Custom Aquarium Design Consultation
Design Consultations... Make Your Ideas Come to Life
The first step to a beautiful aquarium display is a great & well thought out design. There are many things to consider as you plan your feature. Aquarium Illusions has been designing, building, installing & maintaining custom built aquariums since 1996.

We understand that it's not only important for it to look the way you envision it, but it must also be functional and easy to maintain. We can work directly with you, your Interior Designer, Builder, or Contractor to create the perfect feature in your home of office.

Our custom aquarium consultations are free and no obligation. We can assist from small to large systems, and with any size budget.
We have built some beautiful nano tanks, to large museum and public displays.

Give us a call or complete our contact form and let's talk about your ideas!
Customer Support
Please complete Contact Form OR Contact by PHONE
Local:780-483-7027
Canada & US Residents: 1-800-559-6546
[powr-form-builder id=10f534d4_1526653291]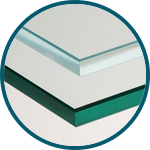 Tank Construction
Most aquariums are constructed out of glass. The standard glass used is a high grade Float Glass. Float Glass is used the majority of the time, for it is more cost effective. A popular option is to use Starphire glass, it is ultra clear low iron glass and gives the best clarity. You may consider using 'Starphire Ultra Clear Glass' for the viewing panels IE: if your tank is built in, you could put Starphire glass on the front panel only. If you are considering an Acrylic Tank, please be aware of the pros & cons. Acrylic is highly susceptible to scratching and great care is needed when cleaning it. Acrylic will also discolor over time. We can supply Acrylic tanks as requested, but we recommend glass for the durability and long lasting clarity.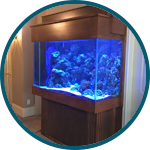 Placement
There are many different placement styles to consider, such as: built in, room divider, stand alone, or theme tanks. We can custom design one for that special spot, or supply you with a self contained aquarium package. It is best to position the aquarium display away from direct sunlight. A certain amount of indirect light is acceptable. In high light areas, Ultra Violet Sterilizers are used to eliminate water borne algae that may be more abundant.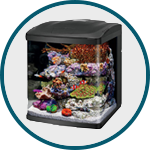 Any Size — Any Budget
Aquarium displays make a big impact – even when small! You can buy Nano tanks in an everything included kit, or if going larger we can build you a tank any size you want. Custom built tanks are not more expensive. The price is simply calculated based on thickness and sq footage of glass used. Quotes are free and no obligation, so if you have a tank idea just ask us.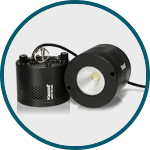 Lighting
Lighting isn't just so we can see all the beauty inside our aquariums, you are the 'Sun' to what grows within. Whether you have a saltwater coral reef tank, or a freshwater planted tank your lighting is a crucial component. There has been numerous advancements to aquarium lighting over the years. LED light fixtures are great because you never have to replace the bulbs, they have slim line fixtures in a number of mounting options, and they create no heat transmission to the water. You can mount them within a canopy, hang from the ceiling, or mount on top of the tank. Only thing to consider with LED lights is which model you prefer and following mounting instructions. Easy Peasy!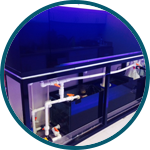 Filtration
It is important to choose a filtration system that is well equipped to handle the biological load of your aquarium. Large aquariums or Saltwater aquariums commonly use 'sump' style filter tanks. These Sump Style filters can be made in custom sizes to house pumps & equipment as well as service all the biological and chemical filtration needs of your tank. You may also want to incorporate water make up tanks or mixing tanks, depending on the space you have allotted for the filtration. The size of your sump tank should be 1/4 to 1/3 rd the volume of your main tank. Standard filtration configuration is to place the filters & equipment underneath the aquarium. If feasible, filtration areas behind the tank (IE: closet, laundry room, garage), or in the basement below the tank (utility room) are great options. Remote filtration rooms are very doable and provide ease of maintenance like no other. Always give consideration to the amount of equipment & filtration size when planning your space. The other important consideration is sizing your system pump to move the appropriate amount of water for your tank volume. Other common types of filtration are the 'closed' styles (IE: filtration canisters) The closed style filtration methods are commonly placed beneath the aquarium or within a few feet away.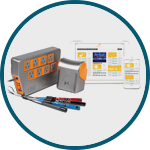 Specialized Equipment
If you want to get more while doing less … there is specialized equipment that can be added to a system to automate it. This can reduce maintenance time and costs. Examples are: Calcium Reactors, Phosban Reactors, Water parameter monitors, Auto Top Up Systems, Dosing Equipment, Lighting & Pump controllers, etc. There are even controllers that you can operate from your mobile device will sitting on the beach in Mexico!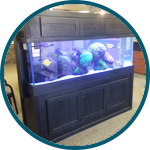 Stand
There is a variety of premade aquarium stands for tanks up to 48"Lx18"W. Sizes beyond that we can build you a stand to meet your tank requirements for weight and design. Want to match other wood furnishings? No problem, we can do that too. Large aquariums (6 feet & longer) are best placed on a tube steel stand and then finished with custom millwork. With the stand, consideration should be made for weight of tank, space for filtration, ventilation, and easy access inside. For built in tanks it is important to extend millwork to cover bottom/top tank edges so all you see is glass and nice millwork.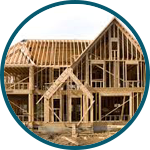 New Builds
Are you planning an aquarium display for your new home? Are you incorporating an aquarium into your renovation project? If yes, please talk to us first. We can help you with your planning stage and incorporate some elements that you will appreciate for years to come. Examples of pre-build features are: number & position of electrical outlets, water make up/drain, spacing for filtration, ventilation, ease of access, etc.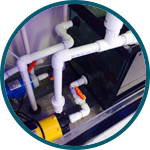 Installation
So your tank is ready for delivery … now what? Installation time! We provide installation services that will get you up and running. We can have the tank delivered, placed, levelled, plumbed in, filled, tested and running. After a short cycling period you will be ready for fish.
Professional Maintenance
Aquarium Illusions has been providing Professional Aquarium Maintenance Services to Edmonton & Area since 1996. We are Edmonton's most experienced service company. Our service is available to you on a schedule that meets your needs. Our service company is store backed with comprehensive reporting reviewed by the Maintenance Manager. We can bring out all your supplies and livestock as needed. Your job will just be to enjoy your aquarium display.
Never get your Hands Wet!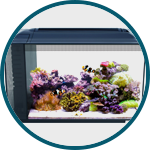 Livestock Planning
Part of a successful aquarium display is proper livestock planning. Our experienced staff can help you plan out what fish and coral you want to have in your tank. We can advise you on what to put in first and what to put in last for the most peaceful tank display (IE: most aggressive tank mate goes in last, etc). We can coach you on what feeding requirements are and other important facts about your new pets.  It is our goal for all our clients to have a happy healthy aquarium, and we can help you with that.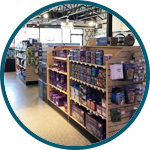 One Stop Shop
Aquarium Illusions are a full supply aquarium shop. We supply everything from food, fish, equipment, to custom built systems. So whether you need an everyday supply or something specialized we can help you out. Being an independent aquarium retailer we only stock and sale what we know from experience & reputation to be reputable products. If we have warranty trouble with a product, we no longer carry it. We have personal control over our inventory, not a corporate office like large chain stores. We are Open 7 days a week for your convenience. We have Online Shopping and also have free Delivery in Edmonton. We welcome you to come visit us soon.