How do you ensure you have the appropriate water parameters for saltwater aquariums.
Anubias "petite" potted 2-3"
Anubias sp. 'Petite' is a mutation which appeared in cultivation at the Oriental aquarium plant nursery in Singapore. Grows very slowly, and can be difficult to keep in healthy growth. Stays less than 5 cm tall and with a rhizome from 5-10 cm or more. It is most decorative when attached to stones or roots, and like other Anubias should be attached with fishing line until it gains a hold. A specialty plant which is ideal for miniature landscapes in small aquariums.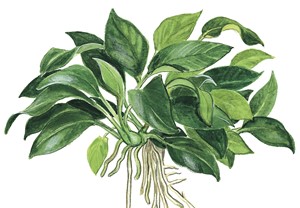 Plant info
| | | |
| --- | --- | --- |
| Type: | Rhizomatous |   |
| Origin: | Cultivar | |
| Growth rate: | Slow | |
| Height: | 3 - 5+ | |
| Light demand: | Low | |
| CO2 : | Low | |